During Ramadan and Raya, we see a lot of good: forgiveness, family members connecting, good food at buka, more prayer and devotion. But there is one good thing we're hoping to see more of this year – eco-friendliness. And looking at the MCO situation, we're pretty sure this isn't much of a stretch to pull off.
With waste going up more and more, we really have to start thinking about its impact on our environment – and what better time to start than during Ramadan? To help you cut down on waste, we've found a couple of simple ideas for you.
Say sayonara to Styrofoam
The worst part about having to tapau food is encouraging the use of Styrofoam and plastic containers, and yet, sometimes we don't have a choice, do we? How else are we going to get our dear murtabak, satay, ayam goreng, and kuih for that evening's buka puasa spread?
Hold up. Let's not forget the one thing our mums have been hoarding in our kitchen cabinets for years: containers. They're lifesavers when it comes to tapau-ing food, and they weigh practically nothing, so you won't have to worry about lugging them around. Time to get into the deep, dark world of your cluttered kitchen cabinets and start fishing them out, for the sake of our environment. You just might inspire your friends and family members to do the same!
Leave no reusable grocery bag behind
This is starting to be standard practice nowadays but we feel it's always good to have a reminder. The next time you're at the supermarket, don't forget to bring a couple of these bad boys with you. They're handy, more sturdy than plastic bags, and you don't have to worry about waste. Keep a couple of reusable bags in your car or work bag so that even your spontaneous grocery trips are covered.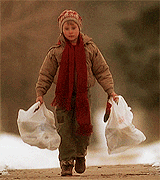 Restyle your Raya outfits
New Baju Raya has always been a big thing in our culture. But maybe it's time for 'new' to have a makeover. New can always mean 'used in a way you've never used it before' or 'restyled from things you already own'. This way, you don't always have to splash the cash or fill the closet with more. You can get creative and mix and match outfits to make your Raya a stylish one. Try 2018's accessories with 2017's jubah or 2019's tudung with 2016's kebaya. We bet you'll look as good or even better. Need more tips? We've got you below!
Donate your pre-loved clothes
Got too many clothes in the closet? Well, if you're thinking of throwing them away, don't. There are a couple of fabric recyclers in KL who are doing a great job of recycling clothes, which keeps clothing and other recyclables from rotting at landfills. One of them is kloth cares, who've been around since 2013. Give them a shout at kloth.com.my if you want to give your old clothes a new home. Marie Kondo herself would be proud.
There are other things you can do, of course, but we've found that these four are simple ideas you can start doing this Ramadan and Raya, and even before that. So, let's get friendly with these eco-friendly tips and look after our environment for each other while enjoying some Raya cheer with the fam bam!
Comments