Who run the world? For the second year in a row, the kingdom celebrates and honours its women on Saudi Women's National Day. Recently, there has been a significant push towards changing women's rights. By 2015, women gained their right to vote and take part in elections. As we see change on the horizon, we wanted to celebrate with you Saudi women from all walks of life who influence where Saudi women are today!
5 Top Influential Saudi women who are making history…
Bayan Mahmoud Al-Zahran
Bayan is the first Saudi woman lawyer who was issued license to practice law in the Kingdom. She launched the first female law firm for the benefit of Saudi women and became the first Saudi woman lawyer when she appeared at the General Court in Jeddah for the first time! She dedicates her time to fight for women's rights. Bayan ranks Arabian Business's 7th of the world's 100 most powerful women.
Haifa Al Mansour
The first female Saudi director and the first to shoot a film entirely in the kingdom. Haifa has been to base her films on taboos of the Saudi community. She was nominated for the Oscars for Best Foreign Language movie for her film "Wadjda". She directed her movie from a van using a walkie talkie!
Khawla Al Khuraya
Dr Khawla is a Saudi physician and cancer specialist. She is a professor of pathology and directs the King Fahad National Center for Children's Cancer and Research. Al Kuraya is a leader in the field of genomic cancer research. She has focused on identifying molecular signature of common Saudi tumors. She utilizes latest technology in the field for her research.
Amal Baatia
The first female CrossFit and Calisthenics Saudi coach! Yup, you read that right. Amal is a passionate mother of two who worked as an investment manager until she found her passion. She took on the role of inspiring women especially Saudi women through social media by creating and sharing short CrossFit workout videos that show the impact that sports and leading a healthy and active lifestyle can have on their lives.
Thoraya Ahmed Obaid
The first Saudi Arabian to head a UN agency, Obaid served as executive director of the United Nations Population Fund from 2001 to 2010. Working with governments to establish programs to empower women has been a central focus of Obaid's work. She is the first Saudi women to head a UN agency and a longtime crusader for women's rights.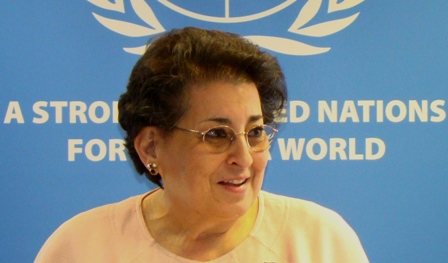 Not only are these women breaking traditions and setting up an example for the younger generations, they are keen on leading their society into the future. And remember empowered women, empower women…Happy Women's Day, KSA!
Comments