Everybody has those days when you see the glass half-empty and you just can't cheer up. Maybe you forgot to dry your clothes properly and now your t- shirt smells damp, or you woke up exactly a minute before your alarm was due. Perhaps your team didn't win, or the person you like read your message but didn't bother to answer.
The reasons are not important, what we care about is how to get you back on your feet and the land of the cheerful. So read on for a couple of pretty sweet plans…
Ice-cream Solves Everything
Nothing revolutionary about this, but that doesn't make it any less efficient! On it's own, with syrup, with sprinkles, as an affogato, in a cup or a good old-fashioned cone, ice-cream = happiness. It's even been scientifically proven, a study in 2010 found out that the Orbitofrontal Cortex, which deals with emotional thought process and decision making, is activated when eating ice cream, with the brain responding as if it's being rewarded.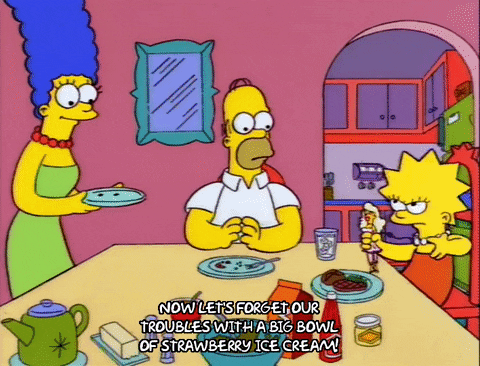 We believe that if the ice-cream comes from Unico Gelatto & Caffe then your brain goes from "reward" to "Christmas In July". Without a doubt, the best gelatto in London, with amazingly inspired vegan flavours and classics that will make you feel like you're Audrey Hepburn in Roman Holiday.
Time To Be A Kid Again
The little ones have their holidays, so shake off the blues, and enjoy your time with them (while getting a bit of your childhood back). Attractions for the whole family, like Shrek's Adventure, or KidZania will bring the happy-go-lucky kid in you! It's a family double whammy with KidZania, since boys and girls get a chance to explore what they want to do when they grow up, from news broadcasting to chocolate-making, radio production or flying an Emirates Boeing 747!
Go On, 'Av A Laugh!
There's no more straight-forward way to cheer up than a comedy night! All aboard The Boat Show Comedy Club (A.K.A. Tattershall Castle) and have night discovering new talent at their Guinea Pig Nights, or laugh at seasoned comedians. We won't encourage you, but if heckling gets you out of your mood, there's nothing we can do to stop you. Can't say the same about the comedians, though.
If you're in Edinburgh, Monkey Barrel Comedy will leave you in stitches. In fact, we advise caution if you plan on having your tea there, you don't want to turn a great hot dog into a chocking hazard…
If these plans don't put a spring in your step, we don't know what will. C'mon, cheer up, after all you just have to download the ENTERTAINER to have twice the happiness for the same price!
Comments